On the evening of the most celebrated Bulgarian holiday – May 24th, we showcase the University Library exhibition Our Textbooks, dedicated to 135 years from the establishment of the Sofia University St. Kliment Ohridski, and the 100th anniversary of the of the founding of the Department of Pedagogy.
The exhibition presents the first textbooks published in Bulgarian language since the Renaissance. Arranged thematically the exhibition vitrines depict primers, grammars, dictionaries and phrasebooks, grammars of foreign languages, also textbooks on history, geography, arithmetic, mathematics, physics, chemistry, hygiene, psychology, logic, and textbooks of a general education nature, trade manuals and others.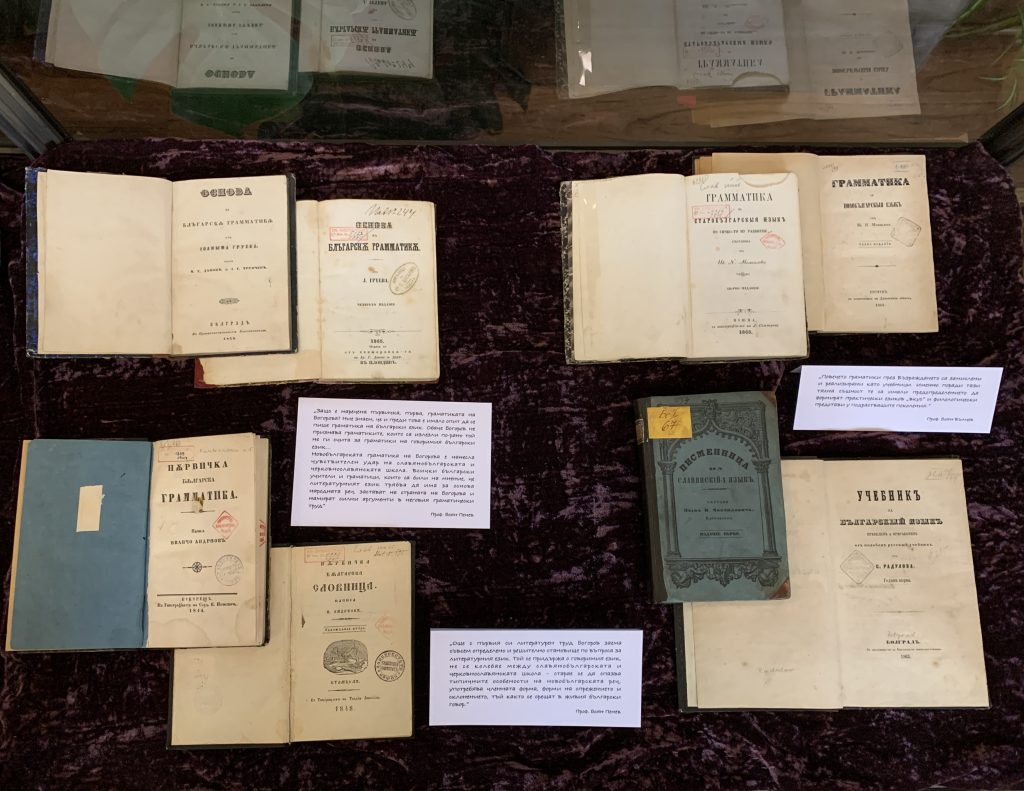 Exhibited are the first publications by P. Beron, Y. Gruev, N. Gerov, N. Bozveli, S. Dobroplodni, D. Voynikov, R. Bluskov, Z. Kniazheski, M. Drinov, K. Fotinov, I. Momchilov, as well as textbooks translated from French, English, and Russian languages by N. Mihailovski, P. Piperov, I. Bogoev, V. Markov, D. Enchev, Hr. Botev and others. Bibliophiles and scholars would find intriguing the bindings of the exhibited books, the printing information, their inscriptions, attributions, illustrations and the thematic preference and characteristics of the period.
The highlight of the exhibition are the first editions of most celebrated Riben Bukvar by Dr. Peter Beron, Тhe Grammar by Neofit Rilski, Slaveno-Bolgarskoe Detevodstvo… by Neofit Bozveli and Emanuil Vaskidovich and other first editions of emblematic Bulgarian textbooks.
A special place at the exhibition is dedicated to the publications by Yosif Kovachev – the founder of the academic pedagogy. His personal collection of books is presented: his methodical manuals, educational aids and textbooks, related to so-called "sonorous" method, introduced in the Bulgarian school system.
The exhibition will be on view, in the main lobby of the University Library, until the beginning of September.